Ball Valve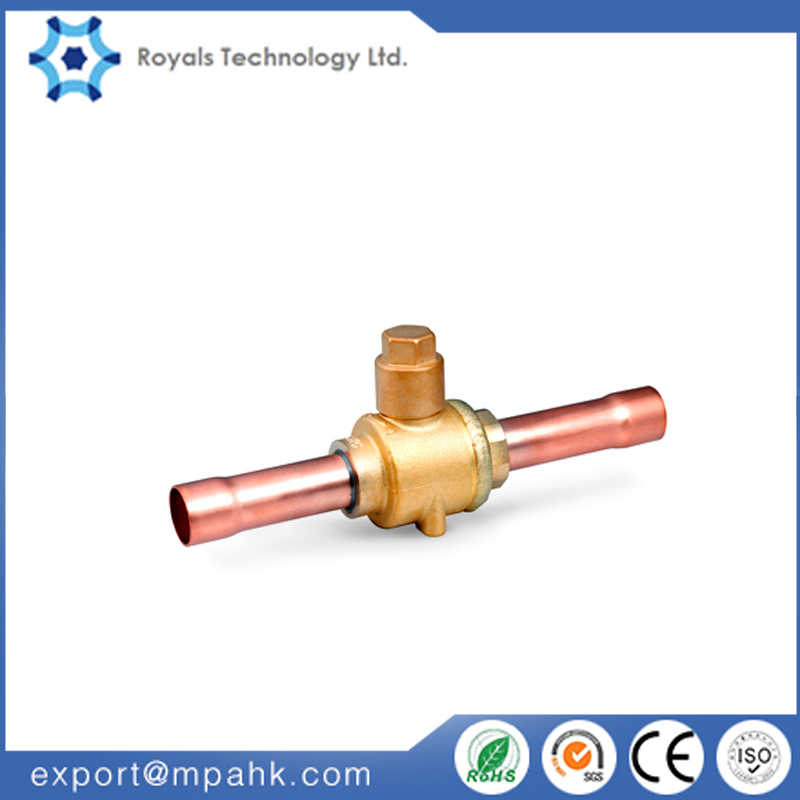 Production Description:
The ball valve series is applicable for commercial air conditioner, freezing or deep-freezing equipment or other refrigeration circuits in order to open and to shut off inner flow path by operating the valve stem. It can also be used as service valve for vacuum pumping and refrigerant injection etc.
Features
·
Straightway type, full port, low pressure drop , cost-effective
·
·
Optional with reinforced spring
·
·
Valve body and valve seat with welded structure, with high product reliability
·
·
Rotate 1/4 circles from full-open to full-close, easy to operate
·
·
Bidirectional flow
·
·
Rotation stop available for full-open and full-close of the valve
·
·
Special sealing materials to prevent internal leakage
·
General specifications
·
Applicable for all common HCFC and HFC refrigerants such as: R22, R134a, R404A, R407C, R410A, R507A...
·
·
Min./max. ambient temperature: -30C to +55C
·
·
TS min./max.: -40C / +120C
·
·
PS: 4,5 MPa (45 bar)
·
·
Installation position: liquid, suction and discharge line in all directions
·
·
Certifications: UL/CSA and PED declaration
·
Part number

L

L1

L2

L3

L4

D

H

M

Weight

Without
access fitting

With
access fitting

[mm]

[mm]

[mm]

[mm]

[mm]

[mm]

[mm]

[mm]

[kg]

SBV-13001

SBV-13019

<,/TD>

132

8

68

31

22

14

16

M4 x 0,7

0,28

SBV-13002

SBV-13020

132

8

68

31

22

14

16

M4 x 0,7

0,28

SBV-13003

SBV-13021

132

8

68

31

22

14

16

M4 x 0,7

0,29

SBV-13004

SBV-13022

160

10

85

31

22

14

16

M4 x 0,7

0,30

SBV-13005

SBV-13023

160

10

85

31

22

14

16

M4 x 0,7

0,30

SBV-13006

SBV-13024

160

12

85

31

22

14

16

M4 x 0,7

0,30

SBV-13007

SBV-13025

160

12

85

31

22

14

16

M4 x 0,7

0,30

SBV-13008

SBV-13026

185

14

99

37

30

19

20

M4 x 0,7

0,51

SBV-13009

SBV-13027

185

14

99

37

30

19

20

M4 x 0,7

0,51

SBV-13010

SBV-13028

185

17

99

37

30

19

20

M4 x 0,7

0,52

SBV-13011

SBV-13029

208

20

112

44

38

25

25

M4 x 0,7

0,73

SBV-13012

SBV-13030

208

20

112

44

38

25

25

M4 x 0,7

0,73

SBV-13013

SBV-13031

251

25

136

44

48

32

31

M6 x 1,0

1,42

SBV-13014

SBV-13032

281

29

151

56

55

38

35

M6 x 1,0

1,90

SBV-13015

SBV-13033

305

34

167

56

74

50

46

M6 x 1,0

3,74

SBV-13016

SBV-13034

305

34

167

70

74

50

46

M6 x 1,0

3,79

SBV-13017

SBV-13035

305

37

167

56

74

60

56

M6 x 1,0

6,08

SBV-13018

SBV-13036

378

42

186,2

80

90

70

63

M6 x 1,0

8,81

SBV-13038

SBV-13040

281

29

151

56

55

38

35

M6 x 1,0

1,90

SBV-13041

SBV-13043

422,7

42

207,5

75

108

80

75

M6 x 1,0

11,32

SBV-13046

SBV-13045

423

42

210

75

148

95

91

M6 x 1,0

19,94

SBV-13042

SBV-13044

423

42

210

75

148

95

91

M6 x 1,0

19,94